Ardeca
Level: 1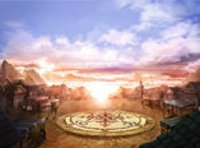 Description
Edit
The Trieste Continent was slowly falling down into the hands of foreign realm since the Great Fall. Azure Knights that inherited the spirit of 'God Sword' Amor Judius, worked together with Incar order to build the Marblai Fortress and Guard tower in Ardeca, the land in upper Denebe River. Now they are using elemental spells to purify Deneb, that is polluted by the foreign realm. This was the place that Ardecos, the blacksmiths who revere the earth god Marblai has been living for a long time.
Bordering Regions
Edit
Collosseum and Deneb
Residents
Edit
The following residents life in Ardeca.